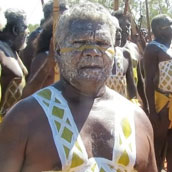 Ian Mongunu
researcher and lecturer at Charles Darwin University
Ian Gumbula is a Yolŋu Elder who grew up on Elcho Island; the son of Djapani Gumbula. He is a qualified teacher and has worked extensively in education at Batchelor College, Ngukurr and Galiwin'ku on Elcho Island from 1975-1986.
Ian worked with ALPA Stores in Arnhem Land and Consultancy Stores as a Trainee Operations Manager and Relief Manager during 1987-1988 before moving back to Ngukurr to work with the Community Government Council as a CDEP Coordinator from 1989-1996.
Moving home to Galiwinku in 1997, Ian took on a role of Youth Worker before securing the Managers position with CDEP from 1998-2007, before Ngukurr again called on his experience to work for FaHCSIA as the Indigenous Engagement Officer (IEO) 2009-2014.
During 2014-2015 Ian Coordinated the Stronger Community for Children Program before running for the seat of Arnhem representing the Country Liberals Party.
Ian's extensive knowledge of Indigenous people, culture and law is complimented by his ability to speak 16 dialects throughout Arnhem Land. His cultural responsibilities and knowledge make him influential when representing either private sector or Government Departments as a consultant.
Ian currently works as a researcher and lecturer at Charles Darwin University.