Exhibit 03
YOLŊU KNOWLEDGE IN BASKETS BY ROSEMARY GUNDJARRANBUY AND JOY BULKANHAWUY
Collecting and dying pandanus leaves – Nhaltjan Napurru Ŋuli ga Wark'thun? Bathi Malanha [How we make baskets] by Milmilany.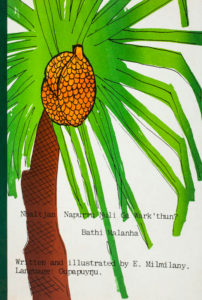 Original Texts in Yolŋu languages
Translation by Yasunori
Notes
Nhaltjan Napurru Ga Wark'thun?
Bathi Malanha
Written and illustrated by E. Milmilany.
Language: Gupapuyŋu.
How do we make baskets?
Written and illustrated by E. Milmilany.
Language: GupapuyŋuYolŋu ways of being and doing have always been placed in the foundation of the land and charcoal ashes; the holder and teacher for all Dhuwa and Yirritja clans and people.
Dhuwalanydja gunga dharpa, yurru lälukmirri dhuwala.
This is a pandanus tree, but with its fruit.
Ŋurruŋunydja napurru ŋuli marrtji ḏiltjilili gungawa. Ga gämanydja napurru ŋuli ga nyumukuṉiny dharpa, gaṯ'maranharawanydja.
First, we go to the bush for pandanus leaves. We carry a short stick to collect the pandanus leaves.
Ŋunhi napurru ŋuli giyalarama ga gunganydja, napurru ŋuli mitthun marrtji ḏimirrṯimirrinydja mala biṉiny dhu yindi'ŋuy.
When we strip the pandanus leaves for weaving baskets, we remove thorns with a thumb nail.
Balanyamirriy ŋunhi napurru ŋuli ga giyalarama, ga ŋayinydja ḏiltjipuynydja miny'tji ŋuli ga nhärana ŋäthilina gurthaŋurana.
At the same time when we are stripping the leaves, bush colours are already boiling over a fire.
Bala ŋanapurru ŋuli gothana ŋunhiyi buyunydja balathina banikinlilina ŋunhi miny'tji ŋuli ga nhära.
Then we put the stripped pandanus fires into the pot where the bush colours are boiling.
Dhäŋuru beŋuruyi bala napurru ŋuli ḻithanmaramana walulilina, yurru ŋunhi gunganydja miny'tjimirrina.ur.
Then we dry the fibres under the sun, but those fibres are dyed.
Reconciliation-dja dhuwal dhukarr nhaltjan ŋanapurr dhu manymakkum ŋayaŋu ga birrimbirr ŋanapurŋguwuy. Ga malthun manymakku romgu. Ga waŋganydja dhukarr napurruŋ dhu bukmak ḻuŋ'maranhamirr ga nhena bala ŋäŋ'thunmirr, bäy-ḻakaranhamirr bala räliyunmirr ga nhena waŋganyŋura.
When the fibres dry, we start weaving a basket and other types of container.
After ŋayi dhu napurr ŋuli gulkthundja gungany bala ḻithanmaramny gungany, lithanmaranawuynydja dhuwandja ga bitjana ŋayi ŋunhi gungany, bitjana nhakun dhuwal.
After collecting and drying panadnus leaves, these are dried pandanus fibres, they look like this
Ŋayi ga dhiyaŋ maŋutj-ḻakaram ŋunhi dhuwal gunga ŋayi redin, ŋayi dhu, ŋarra dhu djäma basketna. Djäma ŋarra dhu ŋurru-yirriyuna.
It shows that these pandanus fibres are ready (to be woven), I will start making basket.
Yurr yaka ŋarra dhu dharrwa märram, ḻurrkun' yän. Dhuwanydja ŋayi redin to make a basketna.
But I won't take a lot of fibres, just a few. These fibres are ready for making a basket.
Ŋunhi buyu yäku, yuṯa ŋayi yäku (for young ones), if nhe yolŋu marŋgi, ga wiripuny nhe dhuŋa, ŋuruki yolŋuw ŋunhi ŋayi dhuŋa, buyu yäku napurr ŋuli ḻakaram nhä ŋayi buyu mayali'.
It is called buyu, an unfamiliar word for young people. Young people might not know this name. We call this buyu and tell them a meaning of it.
Ga dhuwal ŋunhi yaŋara, dhuwal gunga, märram ŋanapurr ŋuli yuṯa buyu, ga dhä-manapan ŋanapurr ŋuli, mam'maram märr ŋayi dhu ŋunha nyälk bondi yindithiny.
This is the pandanus fibre, yaŋara (young ones' word). We grab freshly dried fibres of pandanus and  put fibres together and start weaving, stick layers of fibres together so that a basket becomes big quickly. 
Buma ŋanapurr ŋuli ŋula nhämuna muka ŋaḻindi? Nhämunha muka ŋaḻindi?  Nhämunha muka ŋayi dhu ŋanya gäma, mak waŋgany wo märrma' ŋaḻindiw.
We normally weave for how many months?  How many months? How many months she would continue weaving, probably for one or two months.
Ŋuli nhe dhu yindi djäma, nhe dhu ŋunhi taking mak waŋgany mak. Ŋunhi nhe gaḏamanydja yolŋu ga gumurr-waḏutja djämaw, ŋunhi nhe dhu djäma bala yan ganydjarryu ŋunhiyi ŋanyan dhu waŋgany ŋaḻindiy djäma wo ŋula nhämunha weeks ŋanya dhu djäma.
When you work hard, it will take you maybe one month.  When you are skillful (minds, eyes, and hands) and weave quickly and fast, it would only take one month or some weeks it would take.
Dhuwanydja ga yän melkum nhumalaŋgal. Bulu nhe dhu märram bulu, always nhe dhu checking up balanya. If ŋayi yaka manymak, ŋayi right ,ŋayi dhiyak nyälkaw, nhe dhu yaka bäki. Märram dhu ga nhe dhu always warryun, warryun nhe dhu dhunupayam, make sure ŋayi right. Lengthna ŋayi right, strong ŋayi.
We are just showing you. Get some more fibres, you should always check like; if the pandanus fibre is not right for this basket you should not use that. You grab it, pull it, and straighten it; make sure it is a right length and strong one.
Ga mam' ŋanapurr ŋuli, ga märram ŋanapurr ŋuli waŋgany dhipuŋur bala ga ḏälkum ŋunhi buyu nhä ŋanapurr ŋuli märram ga ŋunha ŋanapurr ŋuli ŋoyŋur räli ḻumbakmaram. Märr ga ŋayi dhu dhuwala ḏälthirr. Ga djäma ŋayi ga dhuwala balanya nhakun, ya' dhuwal weyin   ŋayi dhuwandja nyumukuṉinyŋur ŋayi start, ga roundna ga roundna ŋayi dhu ga djäma.
and we stick them together and grab this end, then firm and strengthen the fibre that we pick and from underneath we fold it. So that it will become strong. She weaves like this, see what I mean; this one is a long one (but we normally learning to weave) a small one , and it goes round and round.
Startna dhuwal djäma, ga yalala ŋayi dhuwal yindithirr Ŋalyurr (new moon come) ŋayi dhu ŋaḻindi ga baḏak dhu ga djäma.  Ga—– ga bulu ŋayi dhu ŋalyun ŋaḻindi
Basket weaving starts here, and later it becomes bigger. When the new moon comes up, we are still weaving. And we continue weaving and weaving… and another new moon comes up.
Ŋayipiny dhu gaḏamandhirri ŋunhi bili goŋ-waṯaŋu
She is the only clever and skillful person beause she is holding an authority and skill of making baskets. She is becoming skilful (eyes, mind, hands) because she has an expertise knowledge and skill in her hands.
Nhätha nhanŋu dhu wark dhawar'yun? Bäy ŋayi dhu nyälka märr ḏumurryirr, yow. Ŋayi marŋgi.
When will her work finish? Not until the basket becomes a little bit bigger, yes. She knows what to do and how to weave.
Ga ŋunhi ŋayi dhu marrtji nhäwi, balanya nhakun yindi marrtji at the same time, nheny dhu marrtji bulu yindikum ga ruḻwaŋdhun marrtji märr ga ŋayi dhu marrtji ŋuthan. Djäma nhe dhu marrtji makuyuk bulu dhä-manapan one after another.
At the same time when the basket is becoming larger, you make it bigger and add more fibres so that it grows. You are   weaving the basket further and put fibres together one after another.
Yindikum marrtji dhuwali, dhuwal nhe dhu marrtji yindikum, ya' dhuwal mala. Bili nhäŋal nhuma? Firsttja it was ŋayi ḻurrkun' yän, balanya, yaka dharrwa.
You would make it big, you would make it big, as you see this. Did you see that? Firstly grab a few, not a lot of fibres.
Now ŋarra ga adding upna, adding upna marrtji balanya yaŋara (buyu). Märr ga nhe dhu djäma manymakkuŋ.
Now I am adding up fibres, and adding up, like these fibres. So that it becomes good and well proportioned. 
Dhuwal ŋarra dhu bulu marrtji yindikum, ya' dhuwal ŋayi ŋunhi. Yow. Bitjana ŋayi marrtji djämany. Yow.
Here I'm going to make it bigger, see this, this is what I'm talking about. Yes. This is how women make baskets; how weaving baskets goes. Yes.
Ŋunhi nhuma nhäŋal bathi, nhäthinya ŋayi nhä process ga ŋorra, ŋunhi ŋayi melkuŋal murruŋgaramdhu ŋurru-yirriyurru nyumukuṉiny basket ga beŋuryi nhuma ga nhäma yindi dhuwana dhärra ga.
You have seen a Yolŋu basket, what sort of process is lying there; my murruŋgaram (brother's mother-in-law) showed you how she starts making a small basket, and from there you see a big basket sitting here.
Nhä ŋayi ga ŋunhi ḻakaram? Rom ŋayi ga ḻakaram. Knowledge ŋanapurruŋ ga ḻakaram. It's all in here. Ga ŋunhi ŋayi skillnydja ŋanapurruŋ ga knowledgedja ŋunhi ŋanapurruŋ ŋorra ŋayi ga. Matha ŋayi ga ŋorra ŋanapurruŋ, manikay ga ŋorra ŋanapurruŋ, dhäwu ŋayi ga ŋanapurruŋ ŋorra.
What does it hold and tell? It holds and tells Rom. It holds, shows and tells out, teaches, our Rom. Our languages are inside of the basket, our songlines are inside of the basket, our stories for our knowledge are in there.
Dhiyalnydja nyälkaŋurnydja creativena. There is everything dhuwana ŋayi. Ŋorra ŋayi li ga bilin. For fillna ŋayi. Then ŋarra dhu märramany, then I can use this in many ways. Bala ŋarra dhu gurrupana ŋayi'yi.
From baby to a girl and woman, we know what's in the there, but we don't tell. We see ourselves as women. Here in this basket. there is everything, it's there, that's how it is. They all lie there and that's all. It is filled with those Yolŋu knowledge. Then I will pick up the basket, then I can use this in many ways. Then I can give it to someone 'here it is'.
Ŋarrany dhu märramany. Guyaŋa ŋarra dhu, nhaku ŋarra dhu dhuwal use dhuwal bathi. Whether ŋarra dhu use ŋathaw borumgu, wo ŋarra dhu ŋarrman (decoration) ŋalmaram ŋayi dhu ga gorrum ŋarrakala wäŋaŋur, ŋarrman.
I will grab it. I might think how and what for I shall use this basket? Shall I use for whether collecting and storing food, fruit, or shall I put it up and hang it in my house as a decoration.
G) Wo ŋunhi balaŋ wiripu bathi linyu djäma, ŋunhi ŋarra balaŋ gurrupanan, yaka dhuwanydja, wiripu basket märr nyumukuṉiny ŋunhi ŋarra dhuwal balaŋ ŋurru-yirryun, ŋunhi ŋarra bala gurrupanan, ŋayi'y wo ŋayi balaŋ ḏirramuy ŋarrany waŋana 'nhini ŋarraku bathi'.
Or what if I make and give a basket, not this one, but a relatively small basket (referring to gaṉ). If I make it and give it to men for ceremony, 'here it is' or a man would ask me 'you make me one basket'.
gaṉ – a small basket woven only by authorised women with skills (eyes, mind, hands). Yolŋu male elders receive gaṉ from them and decorate it with feathers, strings, and colours for particular ceremonial purposes.
G) Ŋuruki ŋarra dhu ŋama'ŋamayunmirr ŋunhi ŋarra manymak djämaw wo ŋunhi ŋarra yaka manymak djäma, but ŋarra dhu trying ga trying ga trying, birrka'yun ŋarra dhu until ŋayi dhuwal manymakthirr.
For that gaṉ, I will consider myself and make up my mind whether I am enough skillful and knowledgeable, or I am not, but an appointed person; whoever she is, would try and try and try, try with authority, knowledge and skill until the basket becomes well-proportioned according to Rom.
Napurr ŋuli marŋgi-gurrupan yothuny, yolŋu yothuny, ŋayi dhu goŋ-birrka'yunmirr ŋayi dhu djämaw. Wiripu ŋayi dhu gunga yupthun bitjan bili ga wiripu bäyŋu, yow.
We teach our child, Yolŋu child; she would try with using her hands for this weaving work. When some make a basket pandanus fibres might drop all the time, and when some other women make a basket it won't happen, yes.
Ga dhiyaki malaŋuw ŋunhiy dhuwal bathiny, waŋganydja nhe dhu dhuyu nhina bathiw, ŋunhi nhunany dhu ŋaḻaparryu waŋa, ḏalkarramirr wo djirrikaymirr 'gatjuy nhini ŋarraku nyälkaw',
Basket are for these things, one of them is that you weave for restricted/exclusive knowledges; when an elder such as ḏalkarramirr or djirrikaymirr asks you, 'come on, make gaṉ basket for me,
ḏalkarra and djirrikay: a ceremonial leader of Yirritja (ḏalkarra) and Dhuwa (djirrikay).
walalnydja ŋunhi nhina gaḏaman yolŋu, gakal nhanŋu gaḏaman nhaltjan ŋayi dhu djäma, ga wiripu yolŋu miyalk napurru ŋuli ga marŋgithirr yän balanya nhakun dhuwal ŋatha wapmaranaraw borumgu wo wäŋaŋur dhu ga gorrum, wo djalimgu nhe dhu rrupiyaw djalim, wo nhe dhu munhdhurr gurrupan, yolŋuny wiripuny wo munagany. Yow.
Those who can make baskets are knowleadgeable and authoritative people, her skills and performance know how she should work and make, some women are learning now, something like this, a basket is for collecting and putting food and fruit, or hanging at home, or for selling to get some cash, or give it as a present for other Yolŋu or non-Indigenous person. Yes.